Interim Executive Director
As the founder of Bohse & Associates, Pat has extensive experience in oversight, strategic direction stewardship, and advocacy to the nonprofit arena. With her background in administration, finance, and programming, she's also a nationally recognized speaker and was the host of a radio show, Not-for-Profit-Exchange. Since 1989, Pat was instrumental in discovering new and better ways for nonprofits to unlock value, reduce costs, build assets, and move forward. She is personally connected to our mission and is enthusiastic about joining us to help us further our goal of reaching and serving as many young people as we can.
Allison Mirabelli is the Program Director at Roots & Wings. She started her career at the agency as an intern, and was then hired as a Program Assistant, then promoted to Case Manager and is now the director of the RISE and FLY programs. Allison is a Licensed Associate Counselor in New Jersey and a National Certified Counselor. She has earned a Master's degree in Clinical Mental Health Counseling and a Bachelor's degree in Criminology and Psychology from Fairleigh Dickinson University. Allison has a deep passion for helping young adults work towards their goals and independence.
Stephanie earned a Bachelor's degree in marketing from The Fashion Institute of Technology. She has worked in the fashion industry in sales management and buying and has years of experience in office management in the real estate industry. Stephanie has decided to join the Roots & Wings team to be part of an organization that aids in the empowerment of young people and has the ability to impact the course of their lives in a positive way.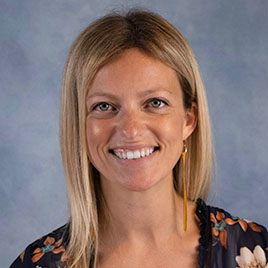 Ashley started with the agency in May of 2021 as the Fund Development Manager. She earned a Bachelor's degree in Communication from Monmouth University, and has spent the last ten years of her career in the nonprofit sector. The majority of that time was spent in health organizations, most recently as the Executive Director of the New Jersey chapter of the Crohn's & Colitis Foundation. Ashley has joined the Roots & Wings team with a passion for supporting donors and volunteers as they strive to achieve their goal of impacting our clients. She is excited to help others realize their potential to make such a positive impact on young people's lives through their generosity and support!
Lamont James is one of Roots and Wings Case Managers. He earned a Bachelor of Science degree in Sociology from Bloomfield College. Lamont is currently pursuing a boxing trainer certification at Aces Boxing Club in Boonton, NJ and a Personal Training certification at the National Personal Training Institute (NPTI). Lamont has a passion for helping people from all ages and backgrounds.
June Toth
Board President

Scott Kraemer
Finance Committee Chair

Andrea Chasin
Strategy and Planning Committee Chair

Debra Shannon
Governance Committee Chair

Paul Heroux
Fund Development Committee Chair
Lisa Adams
Secretary

Peter Nadeau