Edith Villacampa Fiato is the Executive Director of Roots & Wings, joining the team in April of 2023. Edith brings a wealth of nonprofit management and fundraising experience, as well as business acumen, to her new role. Edith joins Roots and Wings from Children's Aid and Family Services, one of Northern New Jersey's oldest and largest nonprofits serving vulnerable children and families. At Children's Aid, Edith served as Vice President of Development, and, most recently, also had management responsibility for the agency's mentoring program for young adults who have aged out of foster care. Edith holds an undergraduate degree in Finance and Economics from the University of Pennsylvania's Wharton School and an MBA from Harvard Business School.
Allison Mirabelli is the Program Director at Roots & Wings. She started her career at the agency as an intern, and was then hired as a Program Assistant, then promoted to Case Manager and is now the director of the RISE and FLY programs. Allison is a Licensed Associate Counselor in New Jersey and a National Certified Counselor. She has earned a Master's degree in Clinical Mental Health Counseling and a Bachelor's degree in Criminology and Psychology from Fairleigh Dickinson University. Allison has a deep passion for helping young adults work towards their goals and independence.
Stephanie earned a Bachelor's degree in marketing from The Fashion Institute of Technology. She has worked in the fashion industry in sales management and buying and has years of experience in office management in the real estate industry. Stephanie has decided to join the Roots & Wings team to be part of an organization that aids in the empowerment of young people and has the ability to impact the course of their lives in a positive way.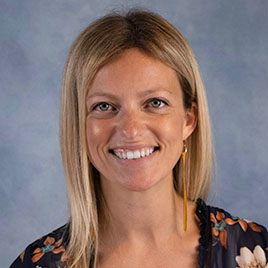 Ashley started with the agency in May of 2021 as the Fund Development Manager. She earned a Bachelor's degree in Communication from Monmouth University, and has spent the last ten years of her career in the nonprofit sector. The majority of that time was spent in health organizations, most recently as the Executive Director of the New Jersey chapter of the Crohn's & Colitis Foundation. Ashley has joined the Roots & Wings team with a passion for supporting donors and volunteers as they strive to achieve their goal of impacting our clients. She is excited to help others realize their potential to make such a positive impact on young people's lives through their generosity and support!
Lamont James is one of Roots and Wings Case Managers. He earned a Bachelor of Science degree in Sociology from Bloomfield College. Lamont is currently pursuing a boxing trainer certification at Aces Boxing Club in Boonton, NJ and a Personal Training certification at the National Personal Training Institute (NPTI). Lamont has a passion for helping people from all ages and backgrounds.
Sharon joined Roots & Wings in 2021 as a volunteer. With an undergraduate degree and M.B.A. from New York University, she held various positions in the financial services industry in Manhattan before moving to Chatham, NJ with her husband and two young sons. She has since worked locally with non-profits and small businesses. Having raised her sons to be (mostly) self-sufficient young adults, she is thrilled to be part of the Roots & Wings team helping the young people in our program grow and thrive.
June Toth
Board President, Finance Committee
Paul Heroux
Vice President, Fund Development Committee Chair, Governance Committee
Scott Kraemer
Treasurer, Finance Committee Chair
Lisa Adams
Secretary, Program Committee
Andrea Chasin
Program Committee Chair
Lisa Smith
Program Committee
Karna Gerich Cestero
Program Committee
Dr. Dina Lundy
Program Committee
Ilene Patasnik
Governance Committee Chair, Fund Development Committee
Marisol Peters
Governance Committee
Debra Shannon Gibbons
Governance Committee
Peter Nadeau
Fund Development Committee, Finance Committee